Thursday 28th February sees the release of Masros' 16 Bar Loop EP Remix, it is released on his own label Money Notes Records and is available digitally on iTunes, Amazon, Juno etc. The EP features remixes from Masro himself,Kidda Beats, LJ, Spooky and Trends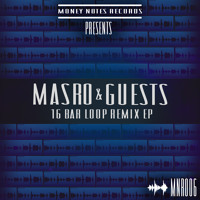 Masro is one of my favourite producers  he is consistent, professional and always produces a high quality sound with lots of bass and stays true to his grime roots. As he has progressed there is a bit more of a electro, trap influence. Masro is well liked the scene being played on stations such as Deja Vu , Kiss, rinse and BBC 1Xtra. 2012 saw the rise of recognition for himself but also the start of his record label Money Notes Records and him securing producers such as Climaks Beats, Skilla Beats and DJ Scope.
The 16 Bar Loop track came to my attention when Manga spat on it early last year but what really caught me was Wiley's use of the Utter Madnezz beat for Step 16. Step 16 was a collaboration with Spooky and was a banger, other artists such as Jookie Mundo and Vapour have also produced freestyles to the loop remix.
What I like about Masro is he's on his game he never fails to dish up anything but big beats with remixes, free downloads and he works with some of the scenes biggest names credits include Wiley, Manga, Flow Dan, SBTV, Lord Of The Mic's 4, Whos' Da Boss, Jookie Mundo, MC Vapour, Meridian Dan, Prez T, Shorty and many more.
Right could you tell me when you started producing
A: I started producing when I was 15 but I started to take it serious when I was 18, I'm 27 now so been doing it seriously for 9 years.
Who is your biggest influence musically
A:  Wow I have to narrow it down to one!! *laughs* that is very hard as I've grown up on so many genre's of music.  Here's what I'll do I'll say one influence from each genre important to me….. Being from a Jamaican background Dancehall, Ragga, Bashment & Reggae are what was played the most in my house growing up so from that field it would have to be 'Stone Love' on the production side of things.  My biggest hip hop/rap influence has to be Timbaland as before I even knew how to produce his productions always stood out to me.  My most important Grime influence is Wiley but I have to throw Dexplicit in there also *laughs* as these 2 played a big part in me wanting to do Grime music as their beats are so different and have always stood out.  Obviously when I was a kid Grime wasn't about, it was Garage that was ruling the radio stations so on that note my biggest Garage influence is Zed Bias as his productions were waaaaay ahead of its time.  Tunes like 'Neighbourhood' that Zed Bias produced could be dropped to this day and get the same reaction to be honest.
Whose your dream collaboration would be 
A: I would love to work alongside Timbaland on a beat, I think a Timbaland beat underneath a Masro melody would be mad!!! *laughs*What the plan is with the label
A: The plan is release good music consistently whether it be a vocal or instrumental releases.  Eventually I want to have MNR under a major which will give me the opportunity to sign singer's, MC's and artist's but right now we're just a production team but yeah that is the plan.  I don't want to say too much but I'm working with a lot of act's that have had mainstream success so look out for that.
Discography
'Mind My Crep E.P' **Instrumentals** – released: 8th Nov 2011 (iTunes, Amazon, eMusic, Play)
'Outta Da Blue E.P' **Instrumentals** – released: 8th Jan 2012 (iTunes, Amazon, Spotify)
'Unexpected E.P' **Instrumentals** – releassed: 8th April 2012 (iTunes, Amazon, Spotify)
'Recognition E.P' **Instrumentals** – released: 14th Sept 2012 (iTunes, Amazon, Spotify)
'Loopy EP' **1 vocal + 5 Instrumentals** – released: 10th Dec 2012 (iTunes, Amazon MP3, Juno Download)